We've been able to achieve a lot since we started. From a small office in Doha and in a single "porta-cabin" site office, we have since evolved into one of the leading EPC company.
Black Cat is an A-Z engineering, procurement and construction company providing a full spectrum of services to our clients, including project development support to engineering, construction management, construction, plant start-up & commissioning, and operations & maintenance.
We build our Client's reputation with passion for results aligned with our clients success and a commitment to the highest level of professionalism and ethical standards in everything we do, then work together as one team both – with each other and our client – to direct our collective energy towards high levels of value that we set new standards of achieving excellence.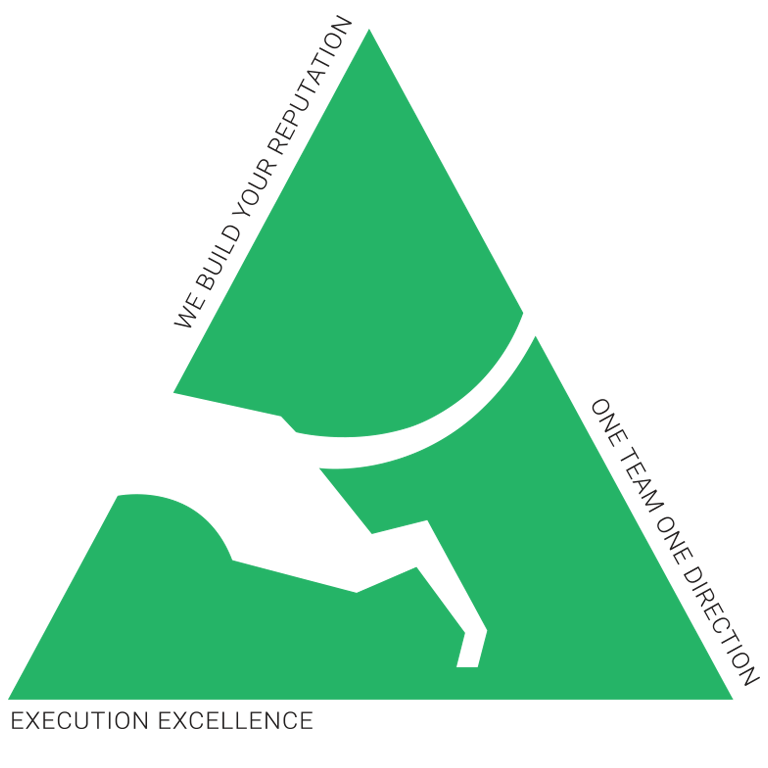 Because Black Cat's trigon is based on three perspectives, we're guided by true trigon.
Passion for results
Our people are passionate about delivering tangible results for clients, and it's in our culture to understand the needs and expectations of our client. We succeed only when our clients do.
Results, not just reports
At Black Cat, we opened our doors on the principle that clients should get results—not just reports—from their Project managers. We broke the rules by developing customized strategies that help our clients. We continue to work with ambitious clients who want to define the future, not hide from it.
What Makes Black Cat Different
Our all-round approach is what distinguishes us from the rest. All majority of services are executed in-house, starting from basic engineering, to final handover of the project. With our strong in-house engineering capability, we by far differentiate ourselves from other local competitors in the Qatari Market.
We've been able to achieve a lot since we started. 
From a small office in Doha and in a single "porta-cabin" site office in Dukhan, we have since evolved into one of the leading EPC company.
In Numbers
Black Cat has achieved a lot since the start. Here are some of our key facts and figures at a glance.
Firm Established
Doha, State of Qatar
Qatari Owned 
QIPCO Holding – Our parent company
Joint Ventures 
Wood Plc. & Doosan
Countries 
In the pipeline
Employees 
Across all entities and divisions
Nationalities 
Our commitment to diversity & Inclusion
Age 
The median age of all employees
Workshop 
BCEC RLIC Facility
Projects Experience 
In 40 years & counting
Black Cat Engineering & Construction (BCEC) is an independent company of QIPCO Holding since 2004. QIPCO Holding is a private investment company with a diverse and international portfolio of business interests.
Based in Doha's iconic 52 story building, Tornado Tower, QIPCO is Qatari owned and continues to grow and evolve.
Established in 1999, the company has made, and continues to make, a substantial and positive contribution to the development and growth of the nation. QIPCO's portfolio of business interests includes subsidiaries, joint ventures and investments across a range of sectors, with each company operating independently and specializing in their own field of expertise all led through the chairmanship of H.H. Sheikh Abdulla Bin Khalifa Al Thani.
Portfolio's Include:
_ Mannai Corporation
_ Midmac Contracting Co.
_ Siemens
_ Special Project Services (SPS)
_ Tornado Company
_ Qatar Racing
Sponsorship's Include:
_ QIPCO British Champions Day
_ QIPCO Irish Champion Stakes
_ QIPCO Prix Du Jockey Club
_ QIPCO Royal Ascot
Black Cat is accredited to its culture and the deep understanding of the needs and expectations of its employees and clients.
It is my role to consistently re-energize this culture as I believe our People and our Culture are the two competitive advantages that no competition will ever be able to emulate.
Paolo Borchetta
Chief Executive Officer
Paolo Borchetta
Chief Executive Officer
Since our organization was established over four decades ago, we have strengthened our foundations, while continuing to make progress throughout our journey.
From modest beginnings in the Oil Fields of Western Qatar (Dukhan), In fact the history of Black Cat goes back to 1937 when CAT Construction was born. In 1951 CAT & Motherwell Bridge from Scotland formed "Mother Cat" and in 1981 Mr. George Salman breaks away to form "Black Cat Engineering & Construction" (BCEC).
This long history and experience enabled Black Cat to develop into one of Qatar's leading EPC Company.
Short Video
Explore some of our major milestones in the short video below.
Black Cat, History timeline in 3D Holographic video – Sep 2019.